Many years ago, someone told me there were only 7 beaches in the world that had the following: white sand as soft as satin, tranquil breezes, abundant sunshine, and temperatures that rarely dropped below 75 degrees. I'm not sure if there's only 7, but I can tell you I found one of those beaches when I moved to Naples, Florida. When you step onto that pristine, silky sand for the first time, it's something you'll never forget. While I have the luxury of living here, I wanted to experience it from the view of a vacationer. I had the opportunity to do just that at the Edgewater Beach Hotel this past week. Laura Radler, GM, made our stay unforgettable with the many wonderful touches she provided!
A 125 all-suite hotel situated on seven miles of white-sand beach, the Edgewater Beach Hotel offers guests a variety of activities as well as a tranquil setting to leave the stress of daily life behind. Believe it or not, there are very few beachfront hotels in Naples, so the Edgewater is truly one of a kind. What's even better about this hotel – their strong focus on wellness. It makes perfect sense as Naples is a Blue Zone. Blue Zones are known across the globe as hotspots of rare longevity in the people that live there due to their diet and lifestyle.
The Edgewater Beach Hotel provides an ideal environment for those seeking the best wellness hotel in Naples. They have developed a program of Wellness Retreats including wellness events, overnight wellness packages, Wellness Wednesday Happy Hours, Yoga on the beach, private guided meditation sessions, and self-care wellness podcasts that were recorded right at the hotel. This wellness program was created in tandem with local experts and intended to help travelers feel their best while away from home. The Edgewater offers two heated swimming pools, a state-of-the-art Fitness Center, private and group personal training, in-suite massage, Holistic Nutrition, bike rentals, paddleboard and kayak rentals, and can also arrange water sport rentals, fishing charters, and other fun activities. We rented bikes and rode about two hours through the beautiful Moorings and Park Shore neighborhoods past awe-inspiring Banyan trees whose limbs arched overhead across the road. Even better, though, was relaxing on our cabana bed watching the gentle waves of the Gulf roll onto shore and taking in the dazzling sunsets from our private balcony. Everywhere you looked from this resort was a breathtaking view.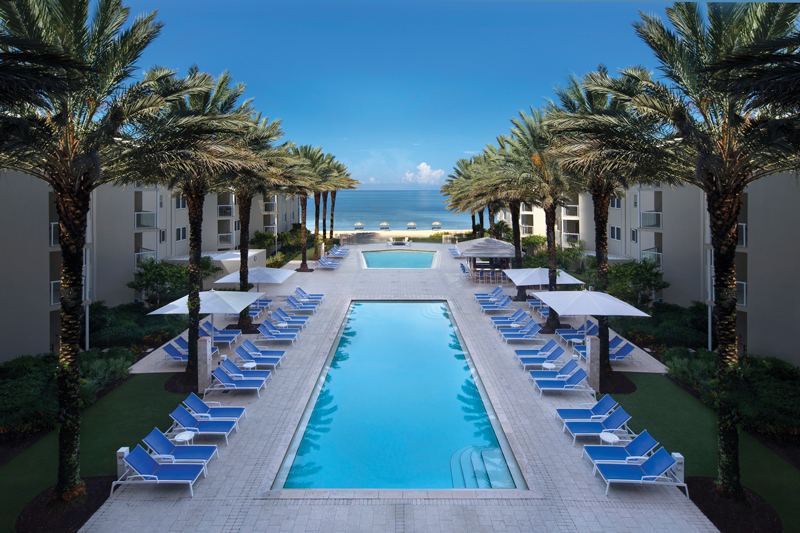 There are only a handful of places that I can remember staying where the views were so spectacular, I didn't want to leave the room. This was one of them. The balcony stretched from the entire length of our bedroom to our living room. Imagine opening your eyes each morning to seeing miles of sea and sand stretched out before you. Just incredible. Just to give you an idea of the size of the balcony – it includes two Adirondack rocking chairs, a small breakfast table with two chairs and two chaise lounges! The suite also features a spacious living room and modern kitchen with a full-size refrigerator, microwave and granite counter breakfast bar. And maybe the best part of the Edgewater was sitting around the fire pit at night having lively discussions with the other guests. For me, that's priceless and rarely experienced in most hotels or resorts where I've stayed.
| | |
| --- | --- |
| | |

But let's get to the food! Every Wednesday from 4:30-6:30pm, Coast Restaurant features the Wellness Wednesday Happy Hour with healthy offerings of lite bites and boozy beverages by the beach. And you are treated to interactive activities held by guest speakers and local wellness experts from the Naples area.
Coast makes healthy dining choices easy by offering breakfast, lunch, and dinner options that are inspired by the diets of the world's Blue Zones. Here is just a sample of the menu:
Breakfast:
Avocado Toast: Whole wheat toast, cherry tomato compote (smoked salmon available to add)
Steel-cut Oatmeal: Served with fresh blueberries and toasted almonds
Green Smoothie: Kale, banana, apple, spinach, almond milk, and honey
Lunch/Dinner:
Meze Platter: Roasted garlic hummus, local crudité, goat feta cheese, country olives, and warm pita chips
Vegetable Wrap: tomato, red onion, grilled local vegetables, hummus, and goat feta cheese
Zucchini Noodle Stir Fry: Onions, asparagus, celery, snap peas, carrots, and garlic tomato broth
The Ahi Tuna Poke with avocado, capers, ginger, garlic, soy sauce, sriracha aioli, and wonton chips was amazing and fresh. We also enjoyed the Red Berry Salad with baby spinach, goat feta cheese, candied walnuts, red onion, strawberry, balsamic vinaigrette. For entrees, don't miss the Grilled Grouper (a must in Florida) with jasmine rice, asparagus, mango chutney, and the Seared Salmon with orange-ginger glaze, sautéed bell peppers, and basmati rice. Everything was delicious!
One of the most unique things I've seen that they're offering is the Suite Space with Remote Learning and Working. What a great idea now that most people can work from anywhere – why not here in this incredible beachfront location! A special package built especially for new-found homeschooling educators and work from home-bodies, the Edgewater Academy is in session. They are pet friendly, so bring your doggie! This package includes:
Up to 15% off suite accommodations
Breakfast for two adults each morning
Kids Welcome Amenity including healthy snacks, school supplies (colored pencils, tape, stapler, pencil sharpener, paper, crayons, glue stick, calculator, pencils, eraser), and a Kids Guide to Naples book
Parent Sanity Amenity including a bottle of wine, aromatherapy kit, and dark chocolate
One Family Field Trip per stay – choice of:

Botanical Gardens
Naples Zoo
C'Mon Children's Museum

In-room charging station, HDMI, and dedicated learning space
Dedicated "Dean of Students" to plan – call with staff member prior to arrival to ensure your suite is set up for success
Of course, the Edgewater Beach Hotel has also made many changes due to COVID-19. Their health and safety measures include
the following:
Compliance with all minimum state and local guidelines related to COVID-19
Utilization of EPA-approved cleaning & disinfecting agents that kill the COVID-19 virus
Face coverings required as part of uniforms for all team members
Hand Sanitizer Stations at high traffic guest touch points
Signage throughout public spaces on cleanliness, social distancing, and hand hygiene
Elimination and/or offering alternative options for any shared-use items that can't be cleaned after guest use
Limiting team member room entry during stay (housekeeping, in-room dining). Housekeeping service being offered upon request only and will be provided when the guest in not present in the room.
Deep cleaning between guest stays; focusing on sanitizing every area of the room. Deep cleaning of high-touch items such as handles, knobs, pulls, and remote controls. High-touch items such as magazines, pens, and pads have been removed and are available upon request only.
Surface disinfecting wipes in guest rooms
As a Green Resort, water conservation, reducing waste and pollution of all types, and limiting the effects of global warming are priorities. They change bed linens and towels only upon request, provide recycling bins, use water saving devices and energy saving lighting, recycle paper, and use ecofriendly cleaning products.
With a coveted beachfront setting overlooking the Gulf of Mexico, Edgewater Beach Hotel is a charming Naples vacation resort that has defined barefoot elegance for over 30 years. This serene resort provides an ideal environment in which to continue making self-care and total wellbeing a priority.
For more information, visit: www.edgewaternaples.com.
1901 Gulf Shore Boulevard North, Naples, FL
Local: 239.403.2000,
Reservations: 866.624.1695