After you've read the title of this article, you're probably thinking I jet-setted off to Europe or some exotic location to have the opportunity to stay overnight in a treehouse or helicopter! Guess again…The Winvian Farm is right in our backyard – nestled on 113 acres of heaven on earth in the Litchfield Hills of Connecticut. Unbelievable you say…I agree and I was shocked to learn that so few Connecticut residents know of this amazing gem!
Lucky for me, I've had the Winvian on my bucket list for years now when I first discovered it in an online search for unique and unusual resort lodging. That bucket list item was checked off this past March when we were invited to stay in the Woodlands Cottage and meet the incredible Chef Eddy to experience his imaginative and spontaneous farm-to-table menus.
Winvian Farm is a luxury resort experience like no other. And considering I've stayed at some world class resorts like The Resort at Paws Up in Montana and The Landing Resort in South Lake Tahoe, I can truly say the Winvian is without a doubt… like no other. This resort is a lighthearted oasis of peace, comfort and mouth-watering dining where fires are bright, sleep tranquil, and the mind is free to play.
Eighteen individually-designed resort cottages designed by fifteen different architects, each with a story to tell, each a surprise, an escape, a splendid adventure allow Winvian's guests to experience the unexpected. Stay the night in a treehouse, a greenhouse or a musical conservatory, a beaver lodge, a stable or the secret society. A gracious 1775 manor stands at the heart of Winvian Farm's historic estate and bikes wait by every cottage door for roaming the grounds.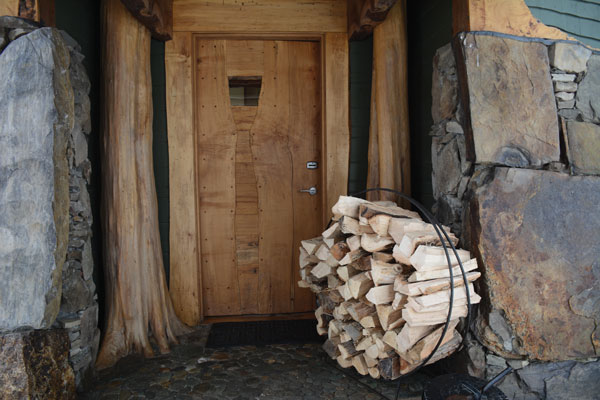 When we first arrived, we were greeted by our wonderful hosts, offered champagne (because staying at the Winvain truly is a celebration), and escorted to a lounge area with a crackling fireplace. There our host explained the amenities and reviewed our itinerary for spa appointments and dinner reservations. We were then whisked off through the forest to our resort cottage.
My jaw dropped as we walked through the entrance of the Woodlands Cottage. It was as if the architect had literally created the woods in the house! The first thing I saw was two rough-cut pine and peeled tree-trunks soaring from floor to ceiling and out of the cottage. Behind the glorious king-sized bed an interior waterfall cascaded merrily over stones. The living room was cozy with a double-sided wood-burning fireplace. The bathroom, a forest fantasy with heated floors, overturned tree trunks which formed the sinks, and water pouring from wall-mounted faucets. A Jacuzzi tub is sunken into the verdigris marble floor looking out to the pond and woods, and the gorgeous walk-in shower is walled with thousands of smooth river stones. You have to see the pictures to believe it.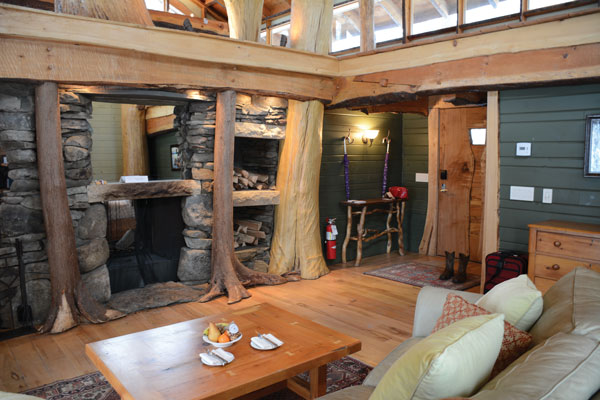 If you love feeling like you're literally sleeping outdoors, you would also enjoy the Beaver Lodge. Beaver Lodge is a splendid, two-story sanctuary of wood and stone on the edge of Beaver Pond. A dome of interlocking sticks canopies the master bed, trees rise to the ceiling, and a spiral staircase winds around the tree trunk to the loft, where a table for two and a twin sleeper sofa overlook the forest below. A beautiful double-sided stone fireplace warms the relaxing space. The fabulous Beaver Lodge bathroom is a watery world of its own with radiant-heated river rock floors and a Jacuzzi that fills from the ceiling.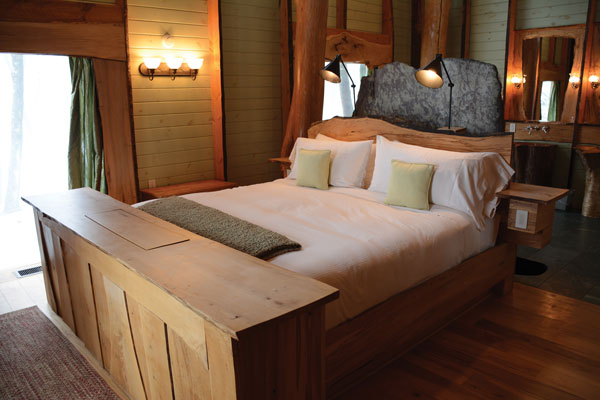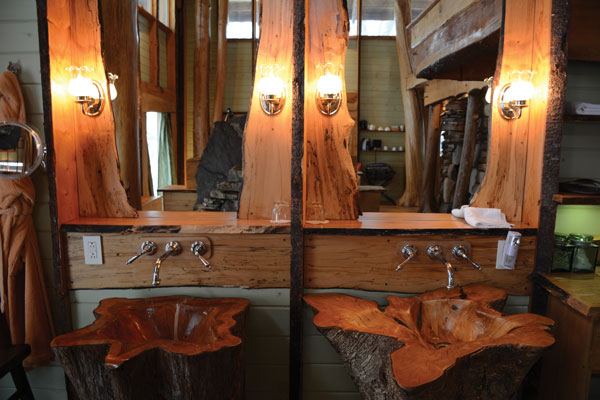 Wishing you had become a pilot? Then you have to stay in the fully-restored 1968 Sikorsky Sea King Pelican HH3F helicopter. This amazing Coast Guard chopper stands at the center of a unique cottage, its rotor blades embedded in the ceiling. The originals are here: pilot and co-pilot seats, switches, gauges – with modern updates such as a mod sofa and flat screen TV. Take your cocktails in the cockpit, watch a film in the fuselage, relax by a glowing woodstove, and sleep in the cloud-soft king-sized bed outside the helicopter.
Need to actually get off the ground? There's even a hideaway suspended 35 feet above the forest floor. Treehouse is a childhood fantasy turned grown-up haven. It's like climbing into a wonderful, well-kept secret, a place of vivid colors and eclectic angles. The first floor bedroom has a king-sized bed, a gas fireplace, steam shower and Jacuzzi. The second floor lounge has a wood-burning fireplace, a queen-sized sleeper sofa, a full bar and grand, treetop views of the New England forest below.
Truly, this is a resort that you'll want to keep coming back to because you'll want to experience each of these incredibly unique cottages.
Unfortunately, I actually had to leave the cottage for my spa appointment at The Winvian Farm Spa, which is 5,000 square feet of relaxation. Trees and sky fill the great arching windows of the Mediation Lounge where everything shimmers with the radiance of the reflecting pool. Private yoga and fitness, massage, hydrotherapy, aromatherapy and skincare are practiced with a balance of ancient wisdom and modern expertise in beautiful state-of-the art facilities. You will definitely leave relaxed and rejuvenated in mind, body and spirit.
But let's get to the best part…the food! The Restaurant at Winvian Farm's Executive Chef Chris Eddy is leading a culinary revolution with his unique seed-to-table philosophy. The freshest, most natural, all organic, non-GMO ingredients are harvested daily to create exceptional seasonal menus, for a truly luxurious fine dining experience. Almost everything served in Winvian Farm's revered restaurant is grown on the private estate in three greenhouses, and three acres of organic gardens. Honey from the apiary, a henhouse, root cellar, and luscious fruit trees round out Winvian Farm's artfully open-ended menus. Even the dining room bouquets come from Winvian Farm's heady flower and herb beds.
We had the pleasure of meeting Chef Eddy and discussing his philosophy of creating an "agricultural renaissance." He explained that to grow the kind of quality food they do at the farm the focus has to be on the soil. The soil needs to be fed adequately and recuperated. Pests are continually confused with crop rotation, and they move the chickens around the farm in a buggy to protect the soil and eat the bugs. Deeply passionate about food and farming, it's clear to see how he creates his delectable menus with the absolute highest quality of ingredients. And they do allow you to dine there even if you're not staying overnight, which I would highly recommend. It will be one of the top dining experiences of your life! I'm sure after you read the next paragraphs you'll be booking a reservation.
First, let me say that you know you're in for an incredible dining experience when they actually chill or heat your plates based on the dish. The Restaurant at Winvian Farm's multi-course fine dining menu changes almost daily; with the seasons, the ever-evolving gardens, even the patterns of the weather. Each plate was presented with pride and an epicurean expression of what is just outside the windows: field-fresh, delectable, inspired… and so spontaneous that the evening's prix-fixe menu is finalized only hours before your meal.
Our first course was Winvian greenhouse beets, garlic mustard shoots, ruby red mustard, wilted beet greens, "beet concentrate" and grilled octopus ceviche – which was seriously the most tender octopus I've ever had. Next we enjoyed a butternut squash risotto with braised veal, chestnut and red wine and garganelli pasta with pear, watercress and blue cheese. Our main course was striped bass with cold grown spinach, cauliflower and grilled cabbage. Not to be missed are the dessert choices and we picked the flourless chocolate cake with caramel mousse and banana and white coffee ice cream. Everything was cooked to perfection, an explosion of taste sensations and truly mouth-watering and satisfying. Rarely can I say that everything we tried from the appetizers to the main course to the dessert was phenomenal.
The best part of all of it is the philosophy and care for the environment shown at Winvian Farm, a small, beautiful circle from seed to table, one that creates extraordinary cuisine and points toward a more prosperous, healthy future for everyone. They even offer garden education and cooking classes for guests, all to keep spreading the good word of truly remarkable seed-to-table food.
Every Sunday throughout the growing season, The Farm Truck by Winvian will be at The Morris Marketplace at South Farms in Morris from 11 am until 2 pm serving creative small bites from the gardens at Winvian Farm. I will definitely be heading out there to have more of their delicious food.
All in all, from the cottages to the spa to the dining, staying at the Winvian Farm will be forever etched in my memory as one of the most unforgettable travel experiences. Make it one of your memories too. For more information, visit www.winvian.com.
Dr. Diane Hayden is an experienced entrepreneur and the owner and publisher of Natural Nutmeg and Essential Living Maine Magazines. Dr. Diane has spent over 20 years in the health and wellness industries as an Assistant Professor at Central CT State University, St. Joseph's College, New York Chiropractic College and Manchester Community College. She led the Education Division of Designs for Health, a physician only line of nutritional supplements, and was instrumental in designing, planning and promoting educational seminars for healthcare professionals in the areas of nutrition and practice development. She is a published author in numerous peer-reviewed journals including Journal of Applied Physiology, Medicine and Science in Sports and Exercise and the Journal of Gerontology. In addition, she has a professional speaking and coaching business, Dr. Diane Speaks, LLC, and travels nationally to speak and present spiritual and personal development workshops. Dr. Diane is a graduate of the University of Connecticut with a BS in Marketing, and earned her PhD in Exercise Physiology from the University of Maryland. In her spare time, she enjoys biking, running, and traveling.