The first thing I saw walking into my suite at Chateau Bourbon Luxury B&B is a pillow inscribed with the quote, "I dream of shiplap walls, chippy paint, subway tile, farmhouse sinks and barn doors." I grew up in Avon when it was more farms than box stores, and back then I couldn't wait to get to the big city. But little by little, I'm realizing that that I do dream of shiplap walls and farmhouse sinks! Don't get me wrong – I still love the energy of cities – but after a few days, I've had my fill.
Chateau Bourbon Luxury B&B has the best of both worlds. It's the perfect choice for travelers seeking upscale accommodations in a down-home atmosphere. Located in the heart of Norton Commons, Louisville's most unique and vibrant walkable community, you can 'park & walk' during your stay with everything you need just beyond their doorstep. It's an actual thing called New Urbanism. And just 10 miles from downtown Louisville, you're only minutes from everything the big city has to offer.
Owners Missy and John Hillock designed and constructed the bed and breakfast with every comfort and convenience in mind. After years of traveling, the couple knew exactly what they wanted to create. Taking standards from traditional 5-star hotels, unique accommodations and adding their personal touches, Missy and John have created an unforgettable guest experience. It doesn't hurt that Missy loves to cook and decorate and John is a fantastic handyman – so their skillsets were a perfect fit to own a bed and breakfast. Missy and John both exude genuine hospitality, impeccable attention to detail and down-home southern charm. They're people you immediately want to be friends with. They show you what southern hospitality is all about with their amazing breakfasts to the evening bourbon cocktail hour – more on that later.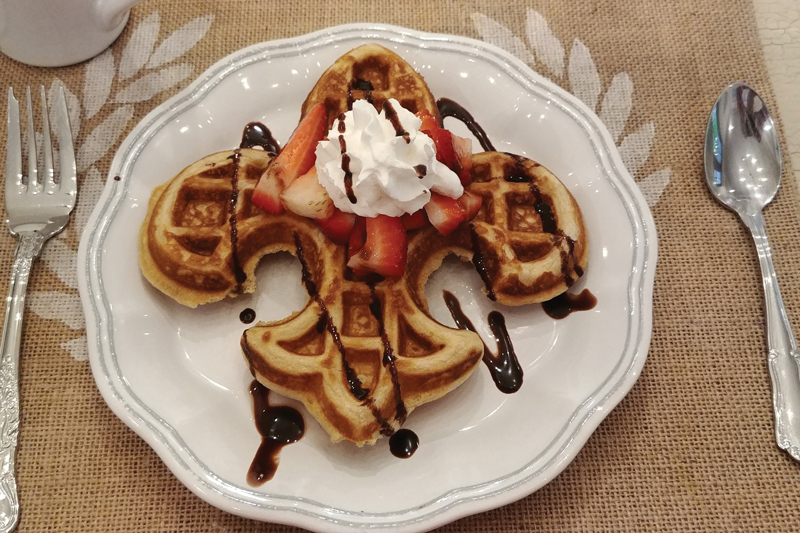 Chateau Bourbon is a 100% chemical-free and allergen-free property. They use all-natural, eco-friendly cleaning mixtures primarily consisting of water and ingredients such as vinegar and baking soda. I was interested to learn that they use Norwex cleaning products throughout the inn. The global mission of Norwex is to, "improve quality of life by radically reducing the number of chemicals in the home."
We stayed in the Angel's Share suite – a magnificent 2nd floor suite featuring a king-sized bed, spacious sitting area, soaking tub, oversized tiled rain shower (seriously, you could have a party in there), deluxe linens, towels, and spa robes. In addition, there's a cozy, private balcony overlooking the town center of Norton Commons. Each suite is individually zoned for air/heat so you can set the temperature to your comfort level. They've even added a guest pantry with complimentary snacks, and a fridge, microwave, ice maker, and glassware. Six porches/patios allow guests to access the outdoors from nearly any room at the inn, including each of the guest suites.
| | |
| --- | --- |
| | |
| | |
| --- | --- |
| | |

But let's get to the food! I hope you're hungry because their 3-course southern breakfast is sure to get your day off to a fantastic start. Using only the freshest, high-quality ingredients, many of which are produced locally in Kentucky, everything is prepared from scratch. Who says you can't drink your bourbon and eat it too? I loved how Missy incorporated bourbon into many of the house specialty dishes, from homemade bourbon granola to bourbon caramel sauce to bourbon-infused sweet dishes.
Our first course was their signature Bourbon granola, served with a choice of yogurt, milk, or almond milk and topped with drunken cherries. The second course was egg cups in thinly sliced prosciutto over grits with fresh melon. The third course was French toast with bananas and drizzled with caramel and butter-bourbon maple syrup. It sounds like a lot of food – but I was pleasantly surprised to see that the portions were small and you didn't leave the table feeling stuffed at all!
I was also looking forward to the bourbon happy hour! As avid bourbon drinkers, John and Missy happily mix you up a refreshing bourbon cocktail each night. Whether it's a classic bourbon drink such as a Manhattan or Old Fashioned, or a more creative use of bourbon and ingredients such as fresh herbs, fruit, or homemade mixtures, it'll quench your bourbon thirst. We enjoyed the Kentucky Mule – which is essentially a Moscow mule using bourbon. The happy hour includes a sweet treat and we enjoyed a delicious mint julep ice cream.
It was an absolute delight to be able to stay at Chateau Bourbon Luxury B&B. Out of all of the wonderful places we've stayed, this is in my top 5. Missy and John's attention to detail is world class and it's so obvious to see their passion, hospitality and genuine care for everyone that walks through their doors. We can't wait to come back!
Submitted by Dr. Diane Hayden. Chateau Bourbon Luxury B&B is an official partner of the Kentucky Bourbon Trail, Member of Select Registry Distinguished Inns of North America, #1 Traveler-rated B&B in Kentucky on Trip Advisor and has received all 5-star reviews on Trip Advisor, Yelp, and Facebook. For more information, visit: https://www.chateaubourbon.com.
Chateau Bourbon Luxury B&B | 10630 Meeting St. | Prospect, KY. (502) 290-6553.