When you walk through the door of Bailey's Backyard, you are entering a community venue for culinary and artistic treasures. Original art hangs on the walls, local musicians occasionally play in the backroom, and comfortable spaces welcome you to settle in and enjoy the artfully created meals by Connecticut Chef Zachariah Campion.
Zach attended a cooking class at the Simsbury High School Culinary Program that launched him into a career as a Chef. He attended Johnson and Wales in Providence and received his 4 Year Culinary Arts Degree where expert chef-instructors taught him the craft of culinary arts in top-notch labs. Culinary techniques for mastering the art of creating balanced dishes and the restaurant business classes made the largest impressions on him.

After learning of Zach's stellar reputation Owner Sal Bagliavio sought out and hired Zach to become the head chef at Bailey's Backyard in 2017. "I liked Zach's classical approach to new dishes and his ability to take a classic dish and make it new again by utilizing new techniques and ingredients." Sal said.
Zach has added the French techniques that he learned at Johnson and Wales to Bailey's Backyard farm-to-table meals. For instance, when I interviewed Zach he suggested his roasted cauliflower and chickpea soup he prepares by using a bouquet garni technique. (Bouquet garni is a French herbal mixture of a collection of herbs, gathered and tied into a bundle or sachet in cheesecloth used to enhance the flavor of stews, broths, or stocks.) The flavors enhanced the soup beautifully. He also recommends ordering his Specials because he has contemplated something fresh and creative. Each week he creates a Tasting Menus with Beverage Pairings that highlight his creative genius in the kitchen. Dinners are 7 courses, lunches are 2 or 3 courses, and Wednesday night is 4 courses.
Zach cares about making customers feel comfortable. "When people ask for gluten-free options, it actually makes my job fun. I'm in the hospitality business and I like to accommodate people and create new dishes," said Zach. His care and passion for preparing fresh, creative local dishes enhance the wonderful atmosphere where delicious meals can be enjoyed.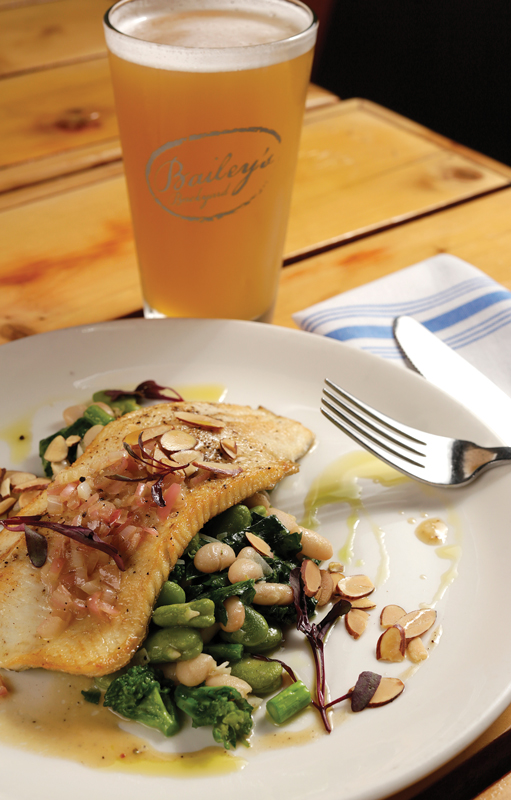 For Brunch Zach recommends Eggs Benedict because the applewood smoked bacon is an unusual yet delicious twist. You can add lobster or pork belly. Also, the Fruit Lovers French Toast is made with brioche bread and topped with baked apples, whipped pumpkin butter, and toasted pecans. For lunch, I personally like seafood and highly recommend the Scallops as a starter and the Lobster BLT for lunch. For lunch, Sal recommends the pork belly tacos or the pastrami sandwich. For Dinner Zach recommends the Spanish Octopus with saffron-carrot puree, lime confit, smashed fingerling potato and chorizo marmalade, Almond Crusted Connecticut Cod, Henry Penny Lamb Ragu with bucatini, tomato, creme fraiche, black olives and Thai basil, or the 50-50 Burger which is 50% dry-aged grass-fed beef and 50% bacon patty.
| | |
| --- | --- |
| | |

Sal and Zach work hard to ensure Bailey's Backyard lives up to a true American farm-to-table restaurant utilizing local and area farms as well as practicing responsibility in their sourcing of ingredients. Each Spring Zach personally goes to the local farms where the produce for the restaurant is grown in Ridgefield and North Salem, NY to coordinate what they should plant for the menus he is planning. He sources the meat from North Salem, Ridgefield, and Wilton, and fresh seafood from waters off Connecticut, Massachusetts, and New York as well as from the Chesapeake Bay. Plus, Bailey's Backyard is committed to sustainable and green practices like using paper straws, biodegradable take-out containers and utensils, repurposing of the wine bottles as glassware, and green cleaners.
Zach knows his community's desires to have responsibly sourced delicious food and a comfortable place to peacefully enjoy a meal. Ridgefield is also a wonderful destination for a healthy weekend getaway. Whether you are a local, passing through this beautiful New England town or staying for a weekend stop by Bailey's Backyard for one of Zach's creative dishes.
Submitted by Frances Wall Higgins. Bailey's Backyard Farm to Table Restaurant and Catering, 23 Bailey Avenue Ridgefield. 203-431-0796. http://www.baileysbackyard.com
Hours of Operation for Restaurant:
BRUNCH (SAT) 11:30 am – 3 pm • (SUN) 11:00 am – 3 pm
LUNCH (TUES – FRI) 11:30 am – 3 pm
DINNER (TUES – THURS) 5 pm – 9:30 pm
(FRI & SAT) 5 pm – 10:00 pm • (SUN) 5 pm – 9:00 pm
Wednesday Night 4 Course Tasting Menu. 4 courses for $40 or $65 with wine pairings. Every Wednesday, New menu every week. Guest has a choice of 3 courses and Dessert course. Each course has meat, fish and vegan/vegetarian option. Reservations Suggested.