The "Power Bowl" is quickly becoming the Holy Grail of health food. For those unfamiliar with this rising food star – also known as the "Buddha Bowl," "Happy Bowl" and "Glory Bowl" – it is a carefully-crafted, Instagram-worthy, bowlful of the perfectly, balanced meal. With an even mix of vegetables and grains that is topped-off with proteins and a dash of saucy seasoning, it has gained a cult-following from those seeking a satisfying and scrumptious meal that packs a powerful nutrient punch. And, now, Simsbury's popular bistro hotspot – Popover Bistro & Bakery – is rolling out their own versions in a new menu with bowls they are coining as "Popover Power Bowls" with names like The Acai Power Bowl, The Buddha Bowl, an Ahi Tuna Poke Bowl, and many more, filled with healthy ingredients that are sure to keep you going all day long.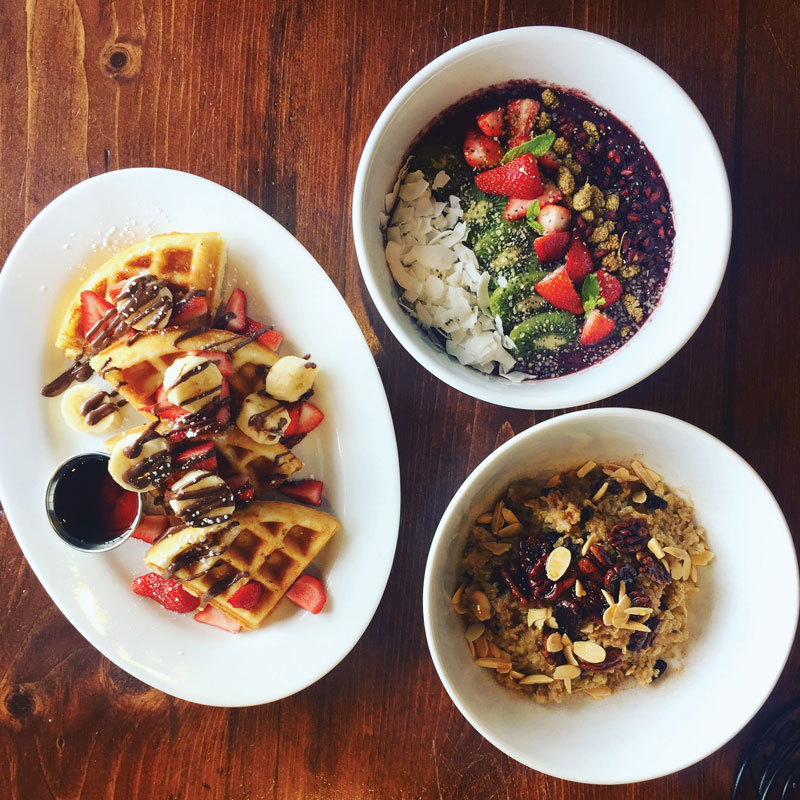 As the namesake indicates, Popover Bistro & Bakery on Hopmeadow Street in Simsbury specializes in creating delectable, freshly-baked popovers which can be served alone or loaded with scrambled eggs and farm-fresh ingredients. Started in the summer of 2014 Popover was created to fill a growing need in the community for natural food that tasted good while also being good for you. Honing in on the rising rates of food-allergies and food sensitivities, Popover works to source local, healthy, organic ingredients whenever possible, in an effort to create delicious, healthy food that can be consumed by all. They also labor to ensure that those choices don't leave flavor and fun behind. For instance, their Classic Waffles are Gluten Free – although you'd never know it – and are served with a decadent dollop of freshly whipped cream, seasonal fruit, powdered sugar and Lamothe's local Sugarhouse Maple Syrup.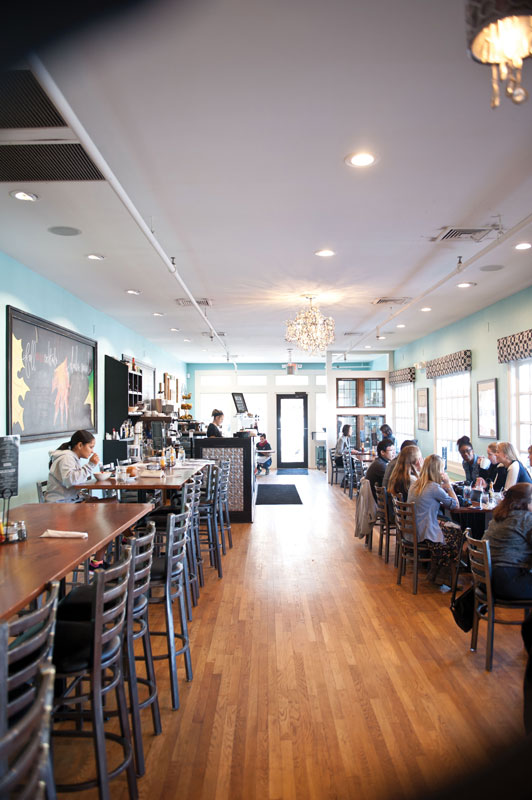 Introducing "Power Bowls" to their new menu seemed like a natural extension of their already adored, healthy offerings. These signature dishes allow for some craft and individualization on the foodie's part – consisting of a predetermined base that can be topped off by a myriad of sweet or savory options. For instance, the Buddha Bowl boasts a base of roasted sweet potato, black beans, corn, avocado, BBQ tempeh, cilantro, pico de gallo, and red quinoa. Similarly, the fruitier Acai Power Bowl base is comprised of blueberries, strawberries, pure acai powder, chia seeds and banana with toppings that include: kiwi, pineapple, shaved coconut, dried goji berries, dried pomegranate seeds, dried lychee fruit, hemp seed and fresh strawberries.
The man behind this eye-catching and colorful, menu-expansion is the talented James Beard recognized Chef Jay Truscio, or "Chef Jay," as he is called by colleagues. A Simsbury native, he is committed to bringing all he's learned about kitchen collaborations and fresh, foodie favorites to his own community. This includes the addition of exceptional new dishes to the menu that are heart-healthy, packed with nutrients and available to the most sensitive of stomachs, like the Power Bowls detailed above.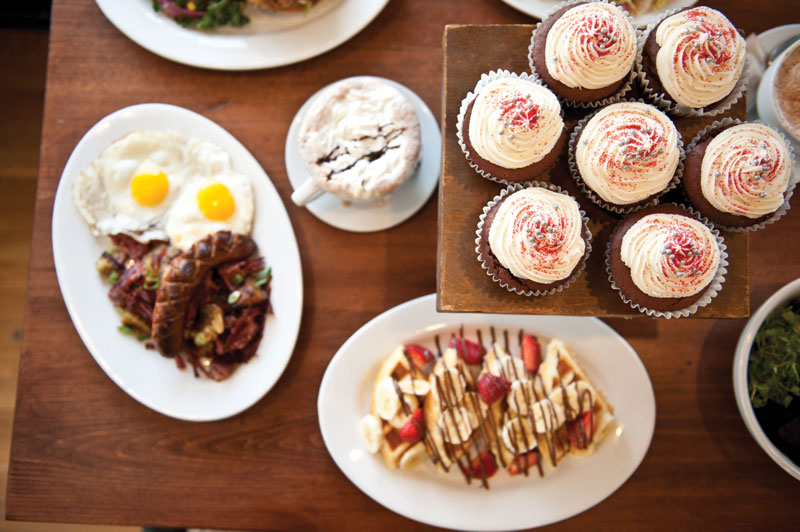 Chef Jay started his career in cooking at the tender age of thirteen, working for the late Leslie Revsin, a widely-acclaimed chef, food-writer, and consultant who gained distinction early in her career as the first woman chef at New York's Waldorf-Astoria Hotel. She inspired his decision to attend culinary school in Asti, Italy, and then he went on to complete a Master's Program in the North – where he lived and worked for two years at Michelin award-winning, La Locanda di Piero.
From there he made his way to Manhattan, and then the Connecticut coastline — working at such esteemed places as San Dominico at Oceana, The Rainbow Room, Fiamma Osteria and, finally, his own Nellie Greens in Branford. Now, he has joined the team at Popover, and along with Baker Jenna Strong, plans to continue to look for ways to create delectable food that not only appeals to everyone, but can be consumed by all. With fabulous gluten-free muffins, scones, desert-bars and daily vegan options, Popover continues to win over all who visit.
They are recent Best of Hartford honorees for the Best Gluten-free Menu in both 2015 and 2016, as well as Best Brunch in 2016. Heeding the mantra that, "you can never have too much of a good thing," Popover is confident that the addition of Chef Jay to the team, and his aforementioned Power Bowls to the menu, means they are only going to make this good thing greater! Chef Jay looks to add in more scratch-cooking and farm-to-table seasonal ingredients, while continuing to use as many local farms, cheese, and meats as possible; and participate in farmers markets, by working with co-ops, and introducing a new series of family style themed dinner's every Thursday night.
Popover Bistro & Bakery is open for Breakfast and Lunch Monday through Friday 7:00 AM–4:00 PM, Saturday 7:30 AM–4:00 PM from Sunday 7:30 AM-3:00 PM. and for more information you can check out their website at: www.POPOVERSIMSBURY.com or visit them on social @Popoversimsbury.
Catherine McKenna Ribeiro is an affiliate of Eat IN Connecticut, a marketing, PR and social media influencer group. Visit them on social @EatINConnecticut, Twitter @Eatin_Ct and tag #eatinct.