Welcome to Bourbon City! I was excited to find that Louisville, Kentucky is one of the most unique and authentic destinations in the US. Louisville is a city that combines heritage with innovation, authenticity with originality and quirkiness with friendliness in true Southern style. Bourbon literally made Louisville what it is today and there certainly is a Bourbon rage happening here in Kentucky and across the country. So much so that you can't even get your hands on certain elusive bottles, even at the distilleries themselves. More on that later. We happened to be visiting the weekend after the Kentucky Derby, which means we missed the insane crowds, however, there was a lot of Bourbon needing to be restocked!
We stayed at what I would consider THE most unique and quirky hotel downtown – the 21c Museum Hotel (https://www.21cmuseumhotels.com/louisville). It starts with an encounter with a double-size replica of David (yes, THE David by Michelangelo). Just look up when you arrive at 7th and Main St – you literally can't miss it. The 21c Museum Hotel is a multi-venue contemporary art museum, an award-winning 91-room boutique hotel, and home to acclaimed Proof on Main restaurant. And an iconic Red Penguin, well actually multiple Red Penguins throughout the hotel.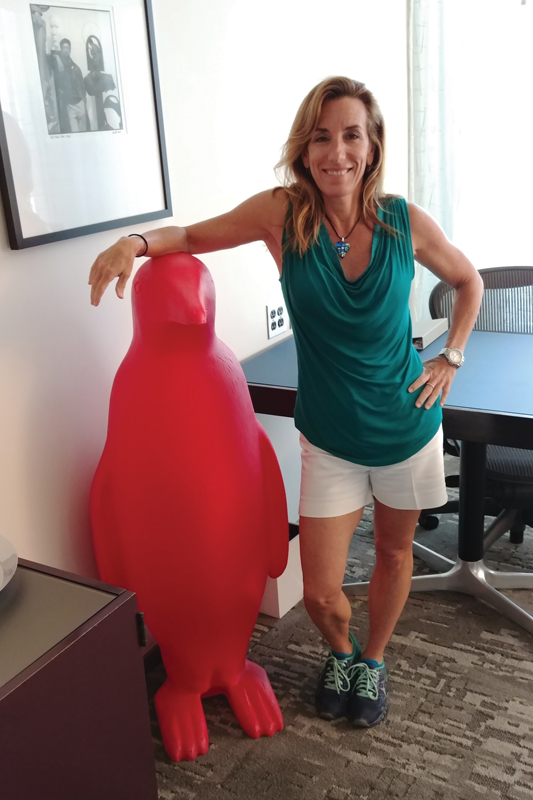 There are lots of reasons people open hotels: to make money, to have fun, to satisfy their egos. Laura Lee Brown and Steve Wilson, the owners of the 90-room 21c Museum Hotel, had a different motive: to introduce the world to their vast contemporary art collection and their beloved city of Louisville at the same time. North America's only museum dedicated solely to art in the 21st century, 21c has 9,000 square feet of gallery space that is free and open to the public 24/7. Art is so essential at 21c that the museum hosts rotating concerts, screenings and even Yoga with Art classes. Re-purposing the former home of a series of 19th-century warehouses; architecture and interiors firm Deborah Berke Partners designed 21c Louisville to reflect both its historical bones and its contemporary new life. The rooms are exquisite and spacious with high ceilings and large windows. Some even feature original historic features such as exposed brick walls, and all are outfitted with custom-designed furniture, luxurious beds and bedding, plush robes, and Malin + Goetz bath amenities – my favorite! You even get your own personal rubber ducky.
There's even an exhibit in the onsite restaurant, Proof on Main. Through partnerships with Woodland Farm and regional artisan producers, Proof highlights the bounty of the Ohio River Valley. The bar is a local favorite and has a bourbon list long enough to be called the Bourbon Library. Don't miss the specialties on the cured meat menu, which features ultra-authentic local specialties like Kentucky country ham and pork jowl terrine alongside standards including Tuscan salami. Fantastic cocktails and fresh, seasonal food – you can't go wrong.
| | |
| --- | --- |
| | |

Louisville has become quite the foodie destination. The best meal we had was at Fork & Barrel (https://www.bethefork.com). Chef Geoffrey Heyde whips up some amazing treats – everything we had was fantastic, from the crispy pork belly to the Brussels sprouts with strawberries and marcona almonds to the red wine braised beef short rib with potato gnocchi and sautéed carrots. Also, don't miss Mussel & Burger bar (https://www.mussel-burger-bar.com) – the most amazing PEI mussels I've ever had – yes, in Kentucky. Louvino (https://louvino.com) in Highlands is also a great spot for small plates.
For the city's best nightlife, head to Bardstown Road or Frankfort Rd. There you'll find quirky bars, cafés and music venues that have nurtured many of the great Louisville bands through the years. We hit the Silver Dollar (http://www.whiskeybythedrink.com) – spinning vinyl and offering a great selection of bourbon, Nouvelle (https://www.nouvellewine.com) – lovely wine bar with outdoor seating in a cozy garden, 8Up Rooftop (https://www.8uplouisville.com) – stunning views and great cocktails, Stevie Ray's (http://www.stevieraysbluesbar.com) – live blues, and the Holy Grale (https://holygralelouisville.com) – best beer selection around and how many times to you actually get to drink in a church.
And of course – the legendary Kentucky Bourbon Trail. Eight distilleries make up the trail and all are open for tours. From famed Maker's Mark and Jim Beam to lesser-known Tom Moore and Heaven Hill, these distilleries make 95 percent of Kentucky's bourbon, and all are close to the city; you might want to spring for a car and driver for the day. We also visited Angel's Envy – relatively one of the newest distilleries launched in 2013, which has a unique take on barrel aging in port wine and rum barrels. You could definitely taste the difference!
Lastly, it wouldn't be a complete trip if you didn't visit horse country and the legendary Claiborne Farm (http://claibornefarm.com), where 6 of the 13 Triple Crown winners have been foaled. We experienced an amazing tour (Rodeo our tour guide was informative and a hoot) and were able to pet and feed 3-4 current stallions including 2013 Kentucky Derby winner Orb! I actually bet on him and won that year! In addition, you don't want to miss a visit to the Maker's Mark Secretariat Center (https://www.secretariatcenter.org), an amazing facility dedicated to reschooling and matching former racehorses to new homes in suitable second careers. Founded in 2004, the MMSC uses its illustrious location to herald the athleticism of this beautiful breed by teaching new skill sets to horses of all levels of ability using the Horse Centered Reschooling Program℠. In this program, developed by MMSC Director Susanna Thomas, retired racehorses emerge to become ambassadors for racehorses in new careers.
Louisville is without a doubt an entirely different type of Southern. From boundary pushing twists on Southern cuisine that have made it one of the "10 Best New Food Cities" in America to the one and only Urban Bourbon Experience™, featuring the world's only, city-wide trail filled with award-winning micro-distilleries, exhibits and craft cocktail destinations, it's a destination not to be missed.
Submitted by Dr. Diane Hayden.
For more information, https://www.21cmuseumhotels.com/louisville
21C Museum Hotel | 700 West Main Street | Louisville, KY. (502) 217.6300