Trastevere…one of my most favorite places in Rome…from romantic winding alleyways and cobblestone streets to magestic churches and splendid piazzas, there are wonders to look at with every turn. By night it's a happening destination full of young, hip, artsy crowds and by day it is a small village with timeless, artisan shops to browse. It truly is the quintessential Roman neighborhood. One of the best things we did while staying in this lovely area was take the Trastevere For Foodies tour. Our fantastic guide, Kate, had a plethora of knowledge about the area and the food we sampled was to die for. With a total of 9 stops over about 4 hours, my advice is don't eat for a week before you do this tour!
Stop #1: Pasticceria Trastevere. Signora Vera has been running this bakery since the 1970s – open every day because you never know when you'll need to bring sweets to your friend or family's house. We tried the bigne, choux pastry bun filled with zabaglione cream. Light and flaky and not overly sweet – which was good because it was 10 in the morning!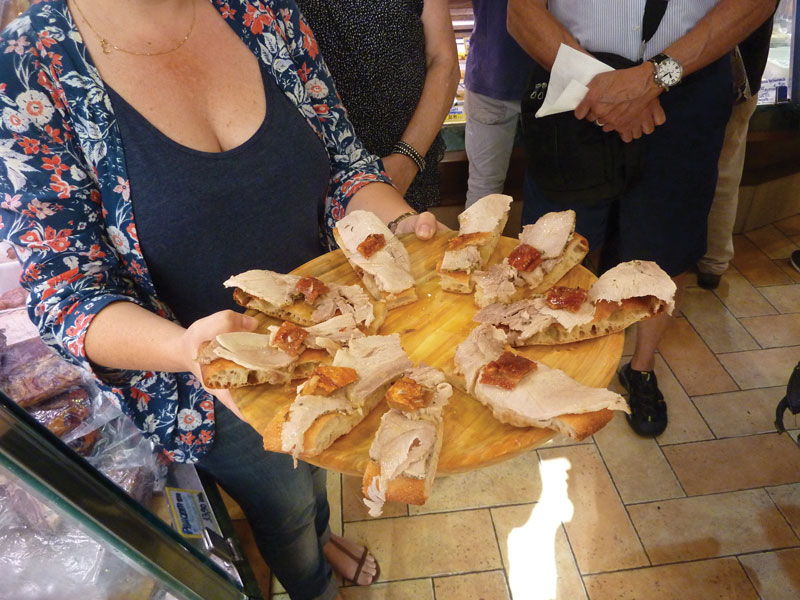 Stop #2: Antica Caciara. This lovely market has been open since 1900 serving cured meats, salami and cheeses. There were also pastas in every shape and size available. We tried the Pecorino Romano that had been aged for 2 years – delicious.
Stop #3: I Suppli. A Roman style rice ball fried to golden perfection. This is not your typical Arancini – and don't let them hear you call it that! The Suppli is a favorite street food snack loved by Italians.
Stop #4: Antica Norcineria. Ask any local where to find the best porchetta and they'll point you to Piero's place. This may have been the best thing I ate on the entire trip – not just this food tour. It was unbelievable – the pork loin was roasted for 5 hours with rosemary and fennel and sliced right in front of us. I could have eaten a whole sandwich!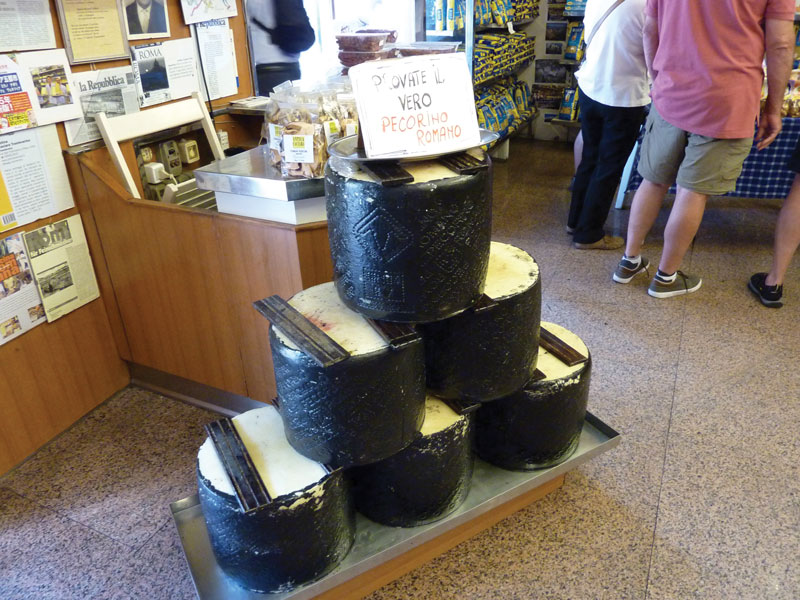 Stop #5: San Cosimato Market. A bustling little market open 7am-2pm every day but Sunday and all family run stalls offering seasonal veggies and fruit, meats, and cheeses.
Stop #6: Fatamorgana. Here you'll experience "true" Gelato – not the fake stuff you see at so many gelaterias across Italy. This was a fantastic learning experience as we realized we had already been duped in Venice and Siena with "fake" Gelato. Our guide informed us that real gelato should be the actual color of the flavor – for example, pistachio should actually be a light brownish/green – not fluorescent green. Any time you see neon colors with swirls and tons of fruit or puffed up gelato, you can bet it's not real. There are artificial colors and additives added in to make it look that way. We tried the almond apple and cinnamon and the blueberry cheesecake – amazing!
Stop #7: Enoteca Ferrara. Run by two sisters – a chef and sommelier duo – the pasta specialties include tonarelli cacao e pepe, spinach and ricotta ravioli and pesto con trofie. They also have over 1200 wines available. Yes – we sat down to a long lunch of all 3 pasta dishes – family style with wine being continuously poured!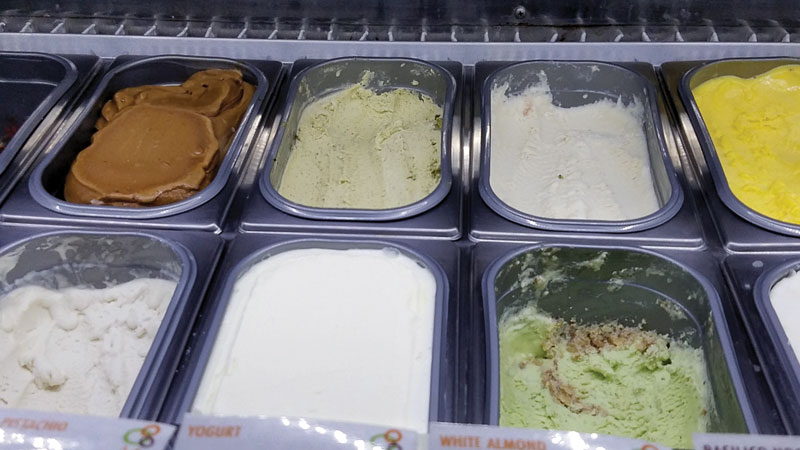 Stop #8: Innocenti. What does a typical Roman do after a 3- course lunch? Follow it up with a sweet treat – and here we tasted the mouth-watering biscotti made with no animal fats in the baking.
Stop #9: Spirito Di Vino. Because we didn't get enough sweetness at Innocenti (kidding), we finished up here with crème brulee and Vino licoroso – a sweet dessert wine. This place was amazing and had an underground wine cellar that we toured. The walls dated back to 80 BC!
It sounds like a lot – but after walking for 4 hours all over the city – I'm sure we burned enough calories. The bites were small – just a taste – and everything was exceptionally delicious. All in all this was an amazing, non-touristy, food experience with a fantastic guide who was obviously loved by all of the shopkeepers and chefs. Next time you're in Rome don't miss it!
Submitted by Dr. Diane Hayden. For more information, visit: www.eatingitalyfoodtours.com, #FoodieInsider, IG: @EatingEurope